News
An important message from the Bridgend Community Outreach Centre
From Tuesday 26th of July until Thursday 1st September we will be offering free packed lunches for children every Tuesday and Thursday. Parents will need to pre order by 2PM the day before via our messenger on Facebook
https://www.facebook.com/barccommunity/
or by calling 01656 451446. These are free to all children in the community, not just those receiving free school meals. Could you Please share with parents who might find this helpful during the school holidays. The lunches can be collected from out hub at 13 Ewenny Road on the days between 11:30-1:30.
More information on our services can be found on our Facebook page or our website
Www.Bridgendcommunityoutreachcentre.co.uk
Early Help Coffee Mornings
We are pleased to be able to support Early Help in providing free courses to our school community. If you are interested, please come along to one of the coffee mornings to find out more. Early Help staff will be available if you have any questions or concerns you wish to discuss with them. We look forward to seeing you at the coffee mornings.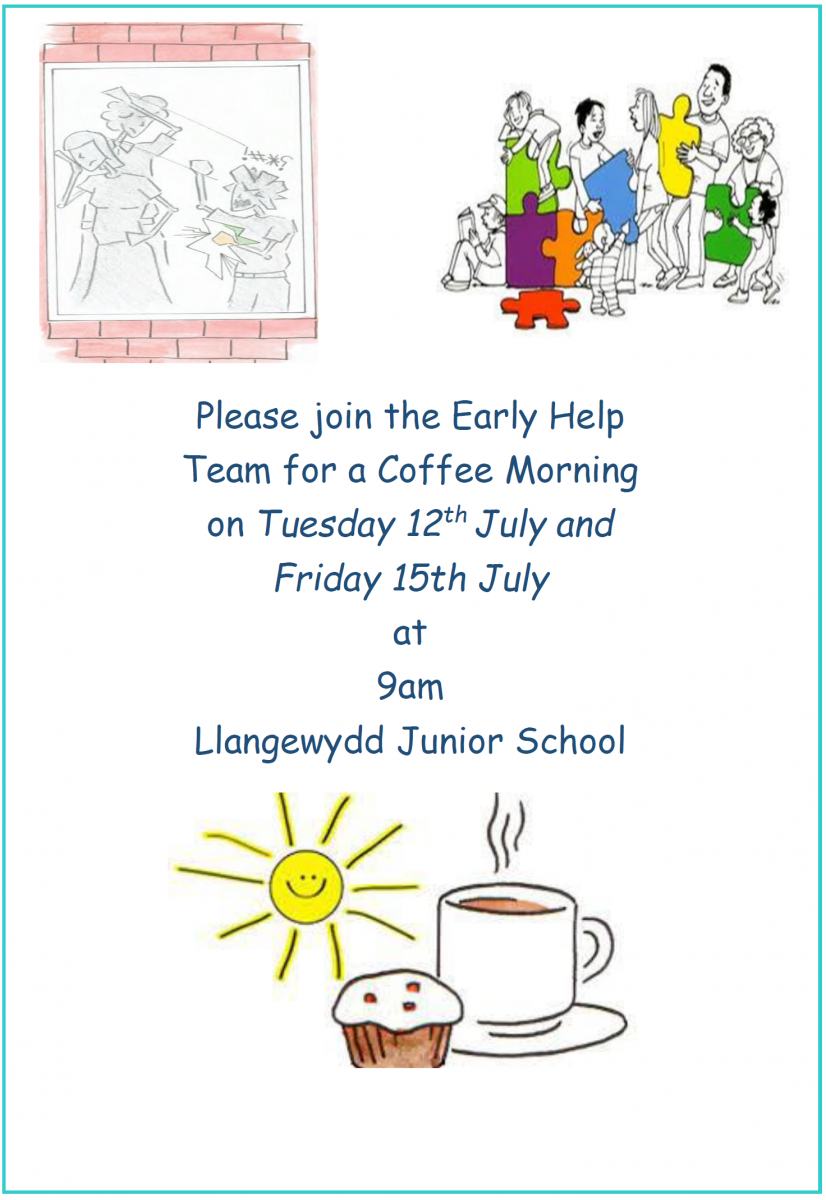 Online safety issue
Today I was contacted by a parent of a pupil in our school. The parent was rightly upset that while at home her child had downloaded a well known 'App' through Youtube and the 'App' transpired to be a clone and therefore something quite different. The 'App' was requesting very personal and inappropriate information. The police have been made aware of the matter. As more children access phones at increasingly young ages, it is so important that parents keep a close eye on what they are accessing onliene. This isn't snooping, it is merely keeping our children safe.
'Just For Kids'
Parents have informed us that the 'Just For Kids' social media platform is not safe and that it can contain hurtful/harmful messages.
5 day isolation rules from WG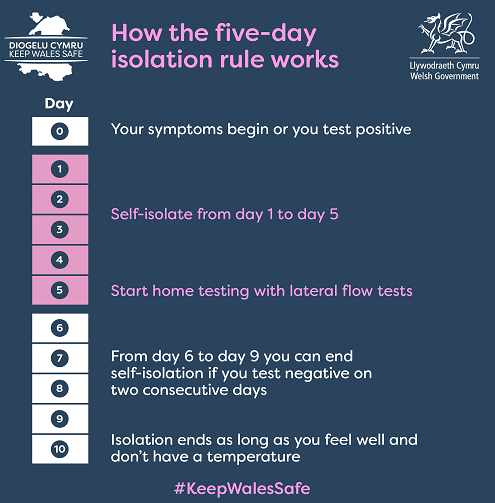 'Siaradwr Yr Wythnos' Winners 28.01.22
Covid-19 status as at Tuesday 25th January
Please refer to the texts that were sent home to parents/guardians today. These stated:

Covid numbers are rising in school significantly. All extra curricular clubs are cancelled immediately until after half term. Where possible, please try to undertake Lateral Flow Tests at home with your child regularly and take appropriate action. If numbers continue to rise amongst both the staff and pupil population we may struggle to keep all classes open at all times. Please plan accordingly. Neil Clode.
'Siaradwr Yr Wythnos' Winners 21.01.22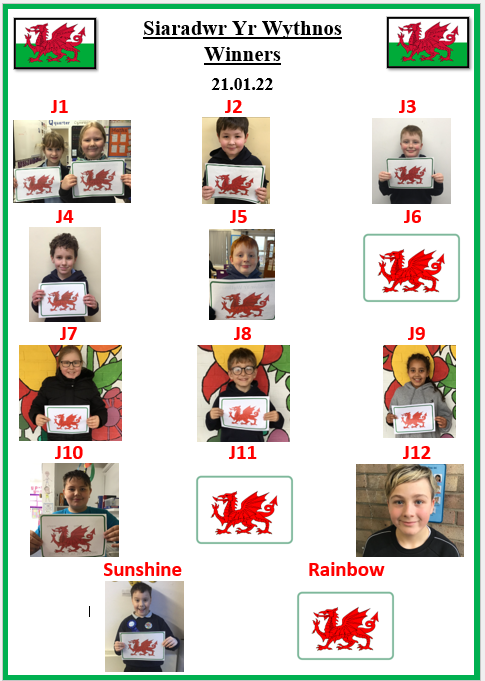 'Siaradwr Yr Wythnos' Winners 14.01.22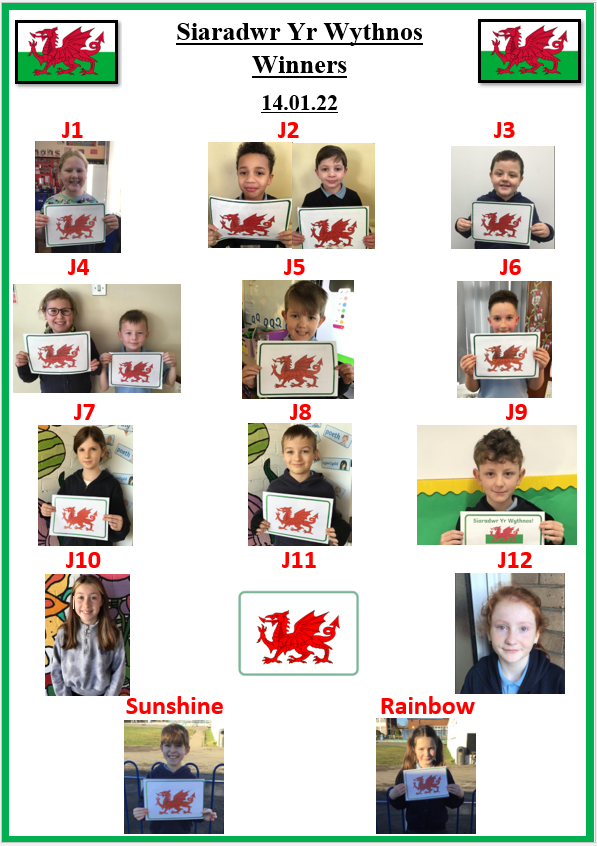 Latest Covid-19 Guidelines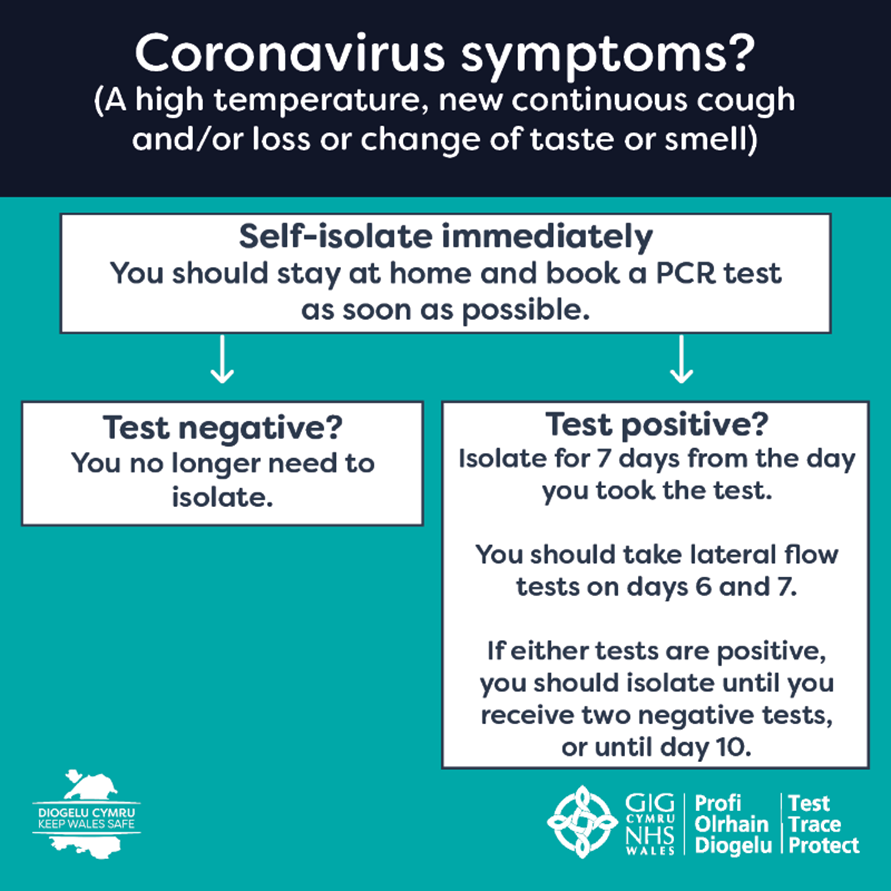 If you develop a new continuous cough, a high temperature or a loss of/change in your normal sense of smell or taste, you must self-isolate immediately and arrange to have a PCR test. To book a test, visit the
Covid-19 staff testing page
for more details.
You must self-isolate for at least 7 full days from when your symptoms started. On
day six
of isolation, you should take a lateral flow test (LFT) and another test 24 hours later
on day seven
:
If both LFT results are negative, it is likely you are not infectious and you may exit isolation.
If a positive LFT result is identified on day six or seven of the isolation period, you should continue to self-isolate until you have two negative results (24 hours apart), or 10 days has passed from the original positive result (whichever is soonest).
On the 6th January 2022, the guidance changed removing the requirement to book a follow-up PCR test after having a positive result from a lateral flow test. You must immediately self-isolate for at least a full 7 days and report your test result on
GOV.UK
.
As set out above, you should take lateral flow tests on day 6 and 7 to check if you are still infectious before leaving self-isolation. However, if you develop Covid-19 symptoms while self-isolating, the 7 days restarts from the day after your symptoms started.
If you are fully vaccinated, you do not need to self-isolate if you have been identified as a contact of someone who has tested positive for COVID-19. You are advised to take a lateral flow test every day for 7 days and report all your test results on
GOV.UK
.
If you are identified as a contact and you are not fully vaccinated, you are required to self-isolate for 10 days. You should also take a LFT on day 2 and day 8, even if the test results are negative you must complete the full 10-day isolation period.
If you work in social care and are identified as a close contact of someone who has coronavirus, you must first contact your manager who will determine your eligibility to remain in work using an approved risk assessment process.
For further guidance on self-isolation, visit the
Coronavirus Frequently Asked Questions
on the staff intranet.
Pupils eligible for free school meals
Christmas holiday free school meal payment vouchers
The local authority is currently issuing vouchers for pupils eligible for free school meals (eFSM) to the value of £39 for the Christmas break. Please be aware that it might take several days for all vouchers to be issued to parents/carers.
Please only contact the local authority if you have not received your voucher by Friday 17 December. Communication received before this date will not be responded to.
As vouchers are issued in batches, you may not receive all your vouchers together. If you are expecting more than one voucher (one per child), you may receive some vouchers by text and some by email depending on the contact details that have been provided by your child's school. Please check your SPAM folder before you attempt to contact the local authority. You will receive the voucher either by text message to your mobile from 'Cash Out' or by email from
no-reply@paypointsvp.com
Last week of term
Please note that next we intend to open 'as normal' and this includes Friday 17th December. Please note also that extra-curricular clubs have finished for the year and will be recommencing from w/c January 10th.
Charity for the homeless - last day for donations is this Friday 10th December
After school clubs
Rugby, football and netball clubs will not taking place this week or next (weeks commencing 6th and 13th December)
'Siaradwr Yr Wythnos' Winners 19.11.21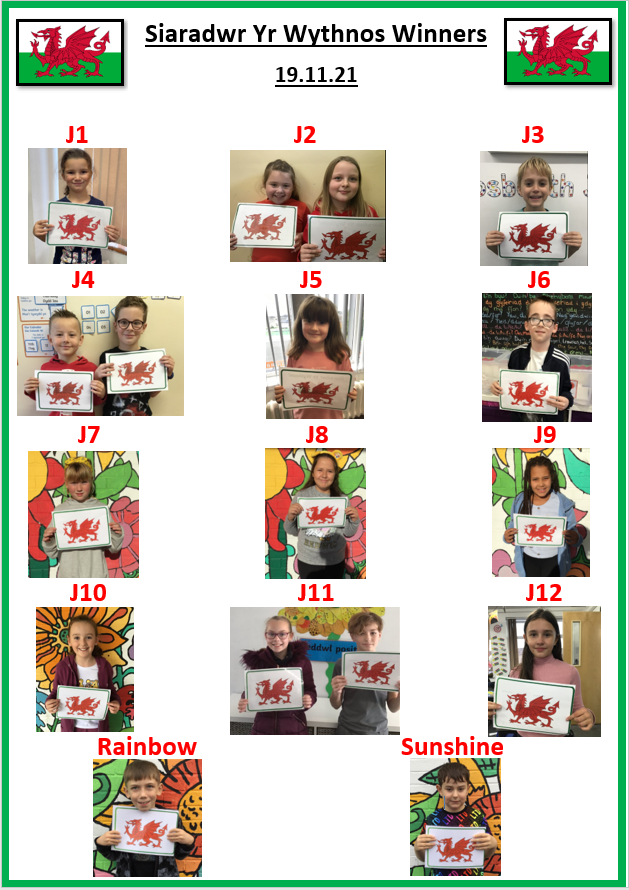 'Siaradwr Yr Wythnos' Winners 12.11.21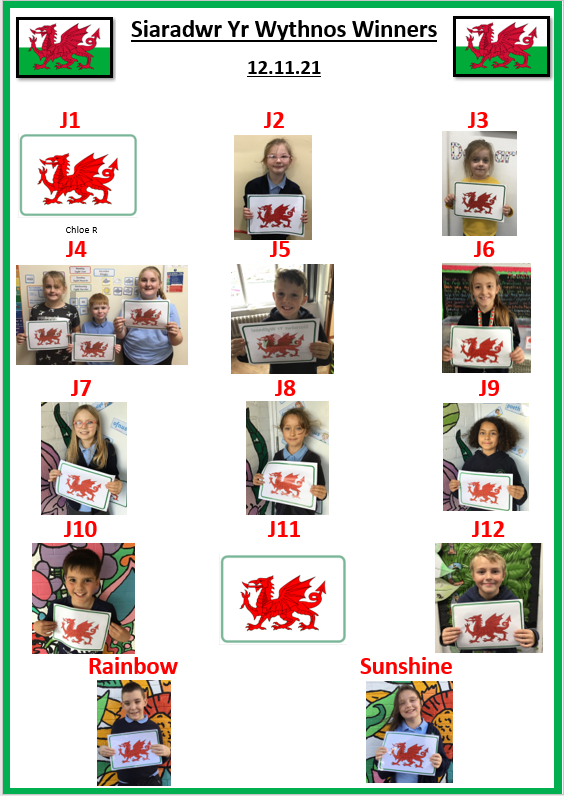 Charity for the homeless
Rather spending out unnecessarily on a present for your child's class teacher this Christmas, why not help Hana in J1? She is trying to help local homeless charities this Christmas by collecting toiletries in socks. Can we help her?
Below is a link to a video that Hana has made explaining a little and demonstrating to others what is required:
https://www.dropbox.com/s/wde14nn5fi6l6ef/Mistletoes%20and%20Christmas%20Bows.mp4?dl=0

If you are unable to put tolietries in a sock - any new toiltries in any shape or form given to the class teacher by your child will be warmly received - Collection date - 10th December 2021.
Voucher redemption for free school meals
All parents of pupils who are eligible for free school meals. The October half term voucher must be redeemed by 21 November 2021.
'Siaradwr Yr Wythnos' Winners 05.11.21
'Siaradwr Yr Wythnos' Winners 15.10.21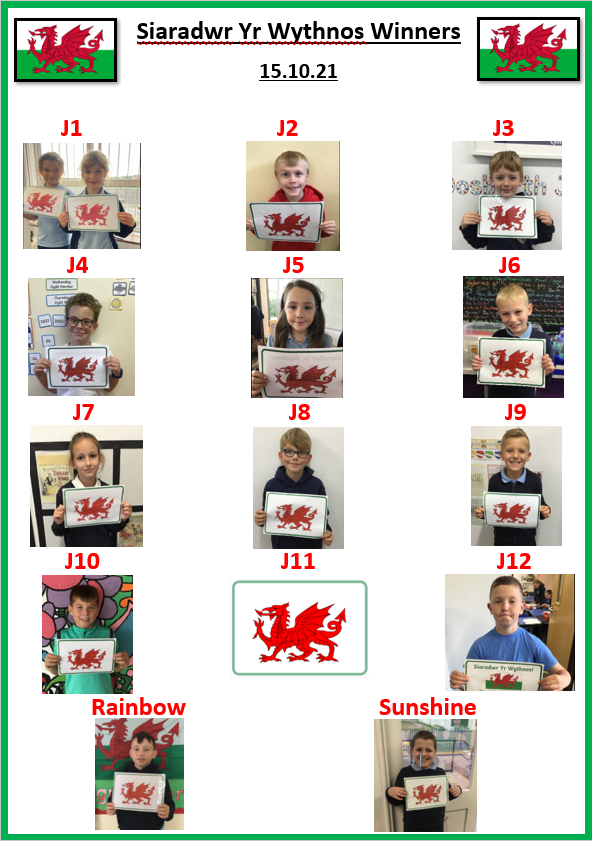 Face masks/coverings
Please note that I have informed all staff today that they should only engage in conversation with parents outdoors (on school premises during the school day) if both the parent and staff member are wearing a face mask/covering.
After school clubs alteration to arrangements
From today (October 4th), all children attending after school clubs will now be dismissed from the main (y3&y5) Heol y Frenhines exit.
Covid Case notification process
From September 20th this year schools are required to notify parents of positive cases relevant to their children in schools.
'Siaradwr Yr Wythnos' Winners 24.09.21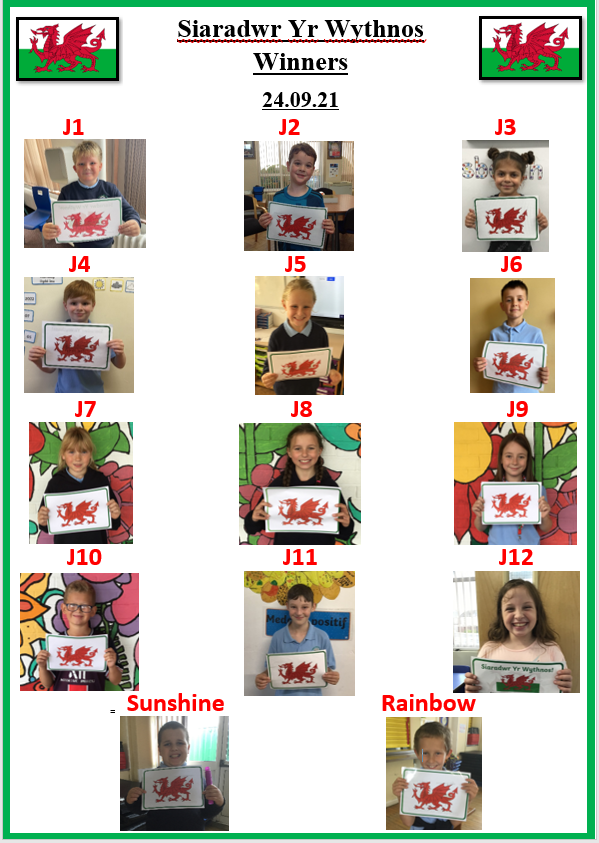 'Siaradwr Yr Wythnos' Winners 17.09.21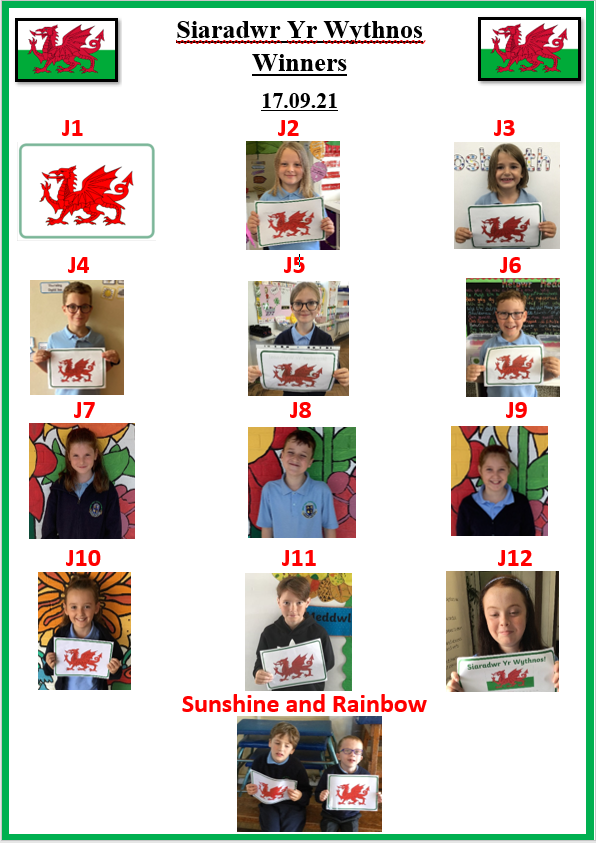 Breakfast Club changes to times
Owing to such large numbers attending Breakfast Club, we need to 'get through' all of our pupils in a more effcient manner. Therefore from Monday 20th September, the 'window' for Breakfast Club at the start of the school day will shorten from the current arrangement of ten minutes, to five minutes. The arrangement therefore from Monday 20th September is that pupils must arrive between 08.20 and 08.25 in order to attend Breakfast Club. Pupils arriving after this time will not be allowed to attend. A reminder also to please, please only send your child to Breakfast Club if you really to do so.
Year 3 texting service
At this time the year 3 texting service is not operational owing to issues outside of our control. All other year groups are fine.
Breakfast Club
Numbers for breakfast club for next week are very high. No child will be turned away, however, until our numbers have settled please only send your child to breakfast club as a necessary measure to support you in getting to work or similar. Neil Clode
'Siaradwr Yr Wythnos' Winners 28.06.21
'Siaradwr Yr Wythnos' Winners 11.06.21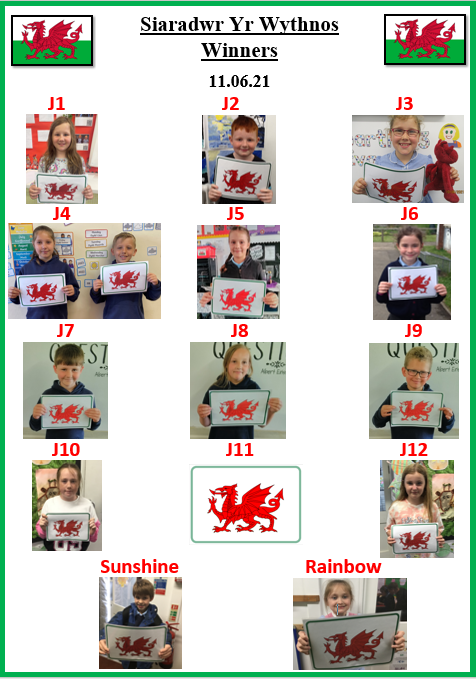 'Siaradwr Yr Wythnos' Winners 28.05.21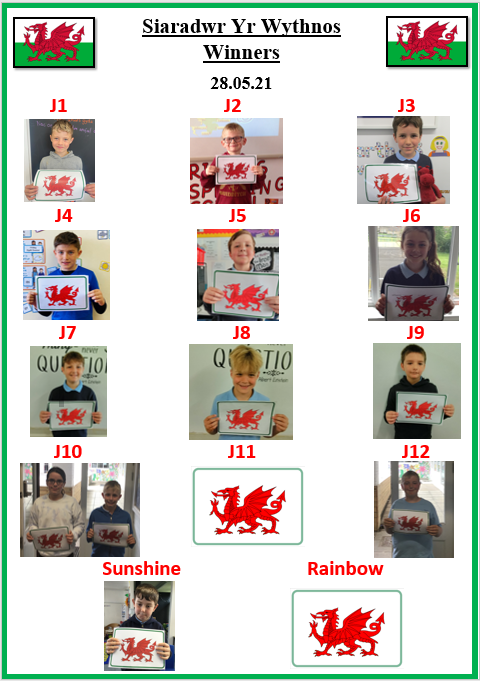 Year 6 Yearbook
Parents of pupils in year 6 are organising a Yearbook for children in year 6. I would love every child to contribute to the Yearbook and I hope every child in year 6 will receive a free hard copy. There
will not cost any money
but may take a little bit of effort on everyone's part to ensure all our children in year 6 are included and it is as good as it can possibly be. Parents have set up an email address to collect the information, this email address is:
LJSYearbook@outlook.com
If you email this address you will receive all the details needed and examples and suggestions. I have been assured that personal details will be deteted on completion of the book and if for any reaon you would like a book but don't wish to be included then this is also fine. This is not a school generated activity, we are only acting as a 'message board' for what seems like a lovely idea. Neil Clode
'Siaradwr Yr Wythnos' Winners 21.05.21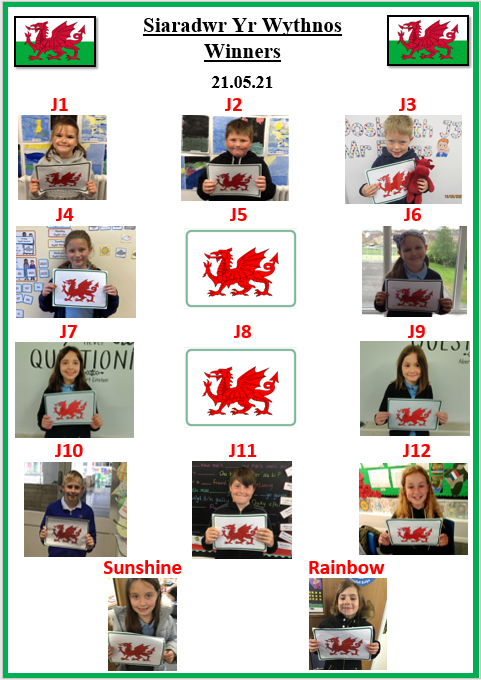 'Siaradwr Yr Wythnos' Winners 07.05.21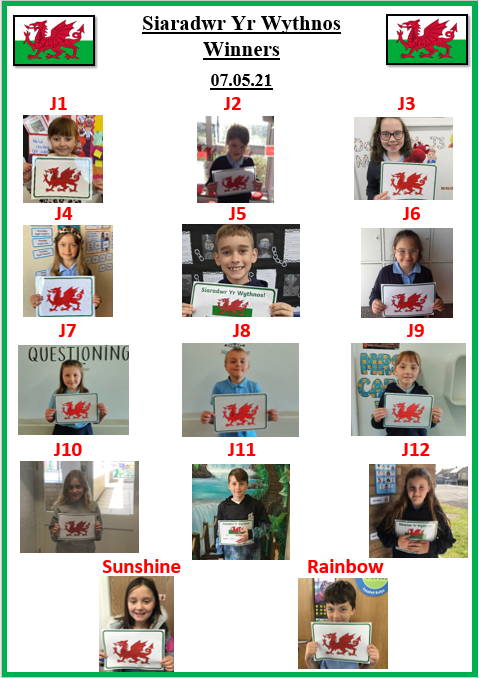 'Siaradwr Yr Wythnos' Winners 30.04.21
'Siaradwr Yr Wythnos' Winners 23.04.21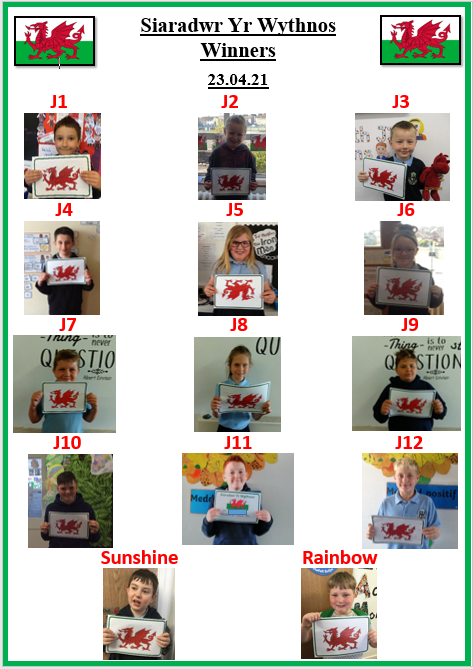 Siaradwr Yr Wythnos Winners 26.03.21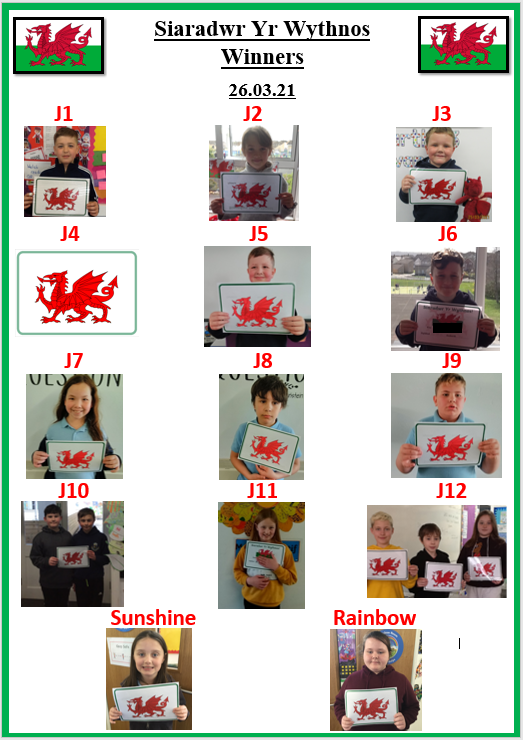 Home Learning
I hope everyone is safe and well. Work will be uploaded onto Google Classroom on Mondays, Wednesdays and Fridays. Children should also read their Bug Club books regularly. Please could Lexia and Reading Eggs children regularly complete their work online. If there are any problems, please do not hesitate to contact your childs class teacher or email Mrs Davies on daviesj250@hwbcymru.net or Miss Davies on daviesy43@hwbcymu.net. We hope to see you all soon.
Merry Christmas from Llangewydd Junior School
Wishing you all a very Merry Christmas from everyone at Llangewydd Junior School.
Merry Christmas to you all.
School closure on Thursday 17th and Friday 18th December
All mainstream, maintained schools in BCBC will move to online learning on Thursday and Friday next week (17th and 18th December). Therefore our school premises will close until the spring term after Wednesday next week. We await a letter from the director of education to confirm this.
Siaradwr Yr Wythnos Winners 20.11.20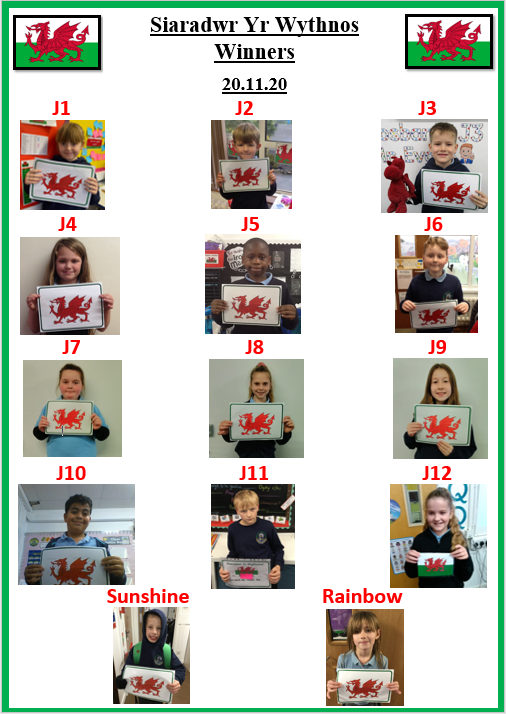 Siaradwr Yr Wythnos Winners 13.11.20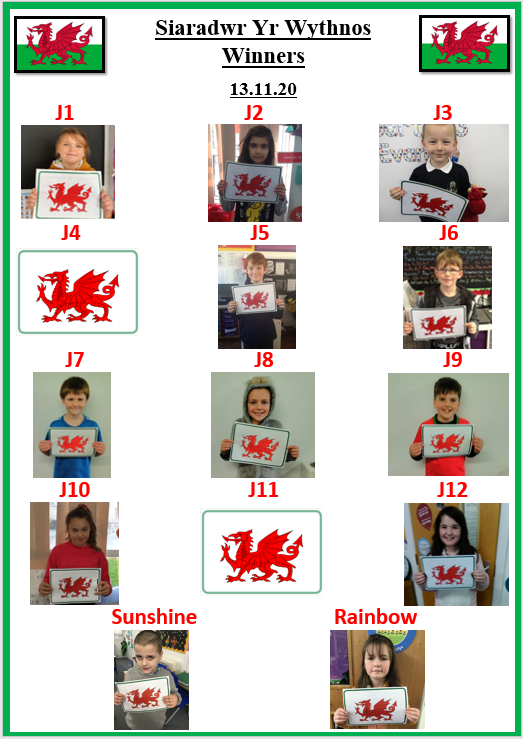 Siaradwr Yr Wythnos Winners 06.11.20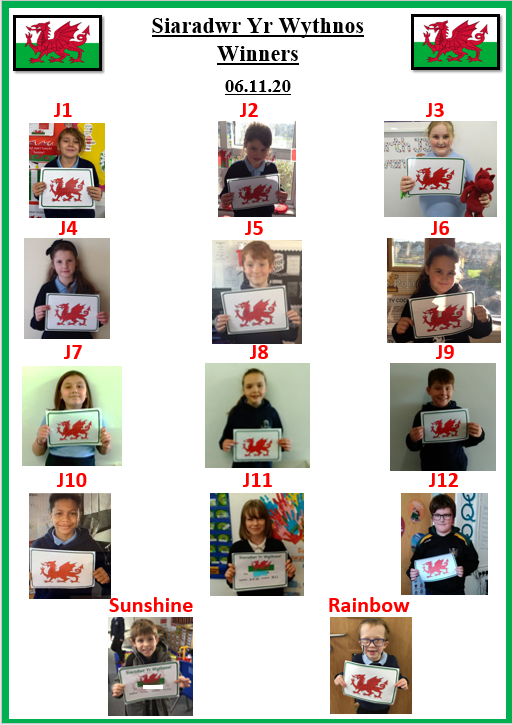 Siaradwr Yr Wythnos Winners 16.10.20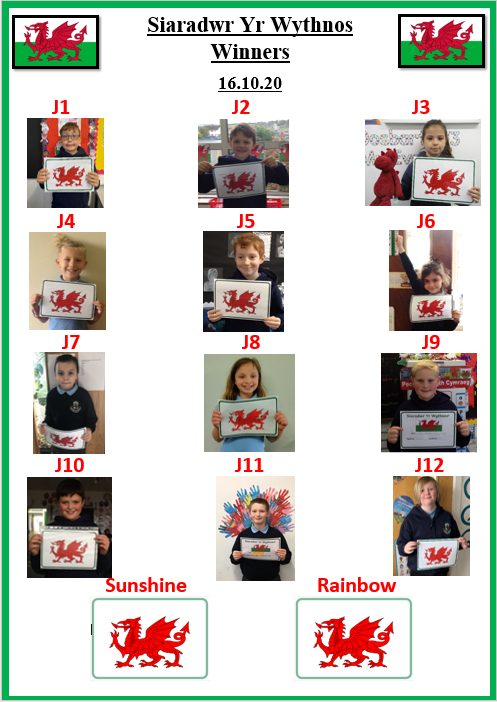 Advicelink Cymru: working in partnership to provide advice and support to people in Wales
Advicelink Cymru: working in partnership to provide advice and support to people in Wales
Advicelink Cymru is a Welsh Government funded Citizens Advice service designed to help people who are most in need of advice services, particularly those who would not usually seek advice.
The service is focused on reaching a number of priority groups across Wales including those from BAME communities, people with learning disabilities, people with mental health and substance abuse issues, victims of domestic violence and others.
Advicelink Cymru offers quality assured advice on welfare benefits, debt, employment, education, housing, immigration and discrimination.
The service aims to help people access the right advice, at the right time and make it easier for people to access services again if the issue is not resolved or further issues arise.
National and regional partnerships are central to the success of Advicelink Cymru. They work with a broad range of partners to ensure that services reach those in need in the priority groups.
The key principles of the Advicelink Cymru service are:
Reaching out to clients proactively, often through partners, to get advice service interventions to those most in need of them before they are in crisis.
Working seamlessly so the client's journey is as simple as possible.
Regionally based services with national consistency.
Quality-assured advice with wraparound support for clients from partners. This support could be practical, emotional, clinical or social.
How to access Advicelink Cymru services?
Call the Advicelink Cymru national number:
Call 03444 77 20 20, M-F, 9am to 5pm
Textphone 18001 03444 111 445
Language line services are available
Access regional advice services:
Search for your closest Local Citizens Advice here
For more information on Advicelink and partnerships please contact Helene Hayes (helene.hayes@citizensadvice.org.uk) or Susannah McWilliam (susannah.mcwilliam@citizensadvice.org.uk).
Siaradwr Yr Wythnos Winners 09.10.20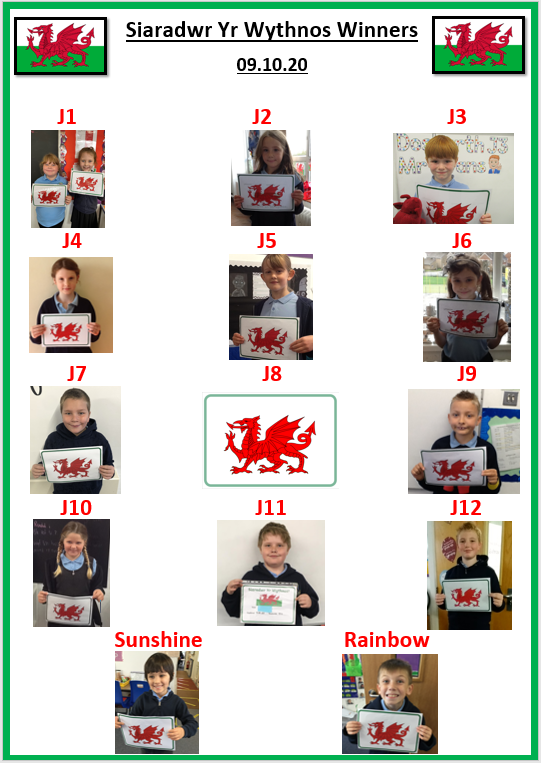 Siaradwr Yr Wythnos Winners
Siblings of pupils isolating (08/09/2020)
As you may be aware, pupils in year 7 at our local secondary school are now self-isolating. Guidelines are clear that this does not preclude their siblings from attending school. Please send your child to school 'as normal' today unless there are other factors preventing this.

Regards,

Neil Clode
Please avoid arriving too early to school today (Monday 7th September 2020). This particularly applies to Base pupils and pupils in year 3 who are scheduled to arrive between 9am and 9.10am.
Support and Report - useful contacts in difficult times
Please click on the following link to access the right people or organisations when faced with significant challenges at home:
'Support & Report'
Neil Clode
To wrap up...
I would just like to say a massive 'thank you' for all of your wonderful support this year. It has been a tough old time and we are far from through it yet, but if we keep working together, for the good of the children in our school, then I am sure we won't go far wrong.
September return to school - I have deliberately avoided going into too much detail about our plans for September. Much more information will be forthcoming in the week commencing August 31st. At this time, we are considering separate entrances for each year group, lengthened lunch times, staggered play times and incorporating the whole school community into our hygiene plans. Start and finish times will vary by no more than 10 minutes from the current arrangements and we fully recognise that our new starters in year 3 (as well as their parents or carers) will need plenty of detail about where to go, what to do when they get here and what to expect, come September - a great starting point though is our prospectus which can be accessed from the home page of this website.
Pupil Reports - Most people have had them but for those pupils who didn't attend school this week, they will be sent out in the post today
School Uniform - We expect pupils to be wearing school uniform from their first day in school but arrangements around PE and PE kit are uncertain at this time.
Respectful behaviour towards our staff
Please be aware that the verbal abuse of staff by parents, carers or grandparents will not be tolerated under any circumstances. Please also recognise that, if you are asked to collect your child from the hub, or from the CICUP provision, for whatever reason, then you must do so immediately and without recourse to unwarranted criticism of our staff. If instances of such behaviour occur, I will, through our governing body, seek to protect our staff through any reasonable means avilable to me.

Neil Clode.
Update for pupils' return to school on June 29th
Earlier this week I drafted a letter to all parents about the return to school for our pupils on June 29th (this is the 'Check-In, Catch-Up and Prepare' (CICUP) provision that all schools in Wales will be providing).

Unfortunately, there is still some uncertainty around some of the fundamental principles relating to this issue. To avoid confusion and the need to retract any statements made, I do not therefore envisage sending a letter (the one drafted or otherwise) to parents about the CICUP provision until at least the early part of next week.

Neil Clode
Refer to the latest letters from the Director of Education in the Newsletters section
New website
Welcome to ur new website. Download the App and off you go! When you set up your preferences you will get the right notifications you need in order to be able to support your child's learning further.